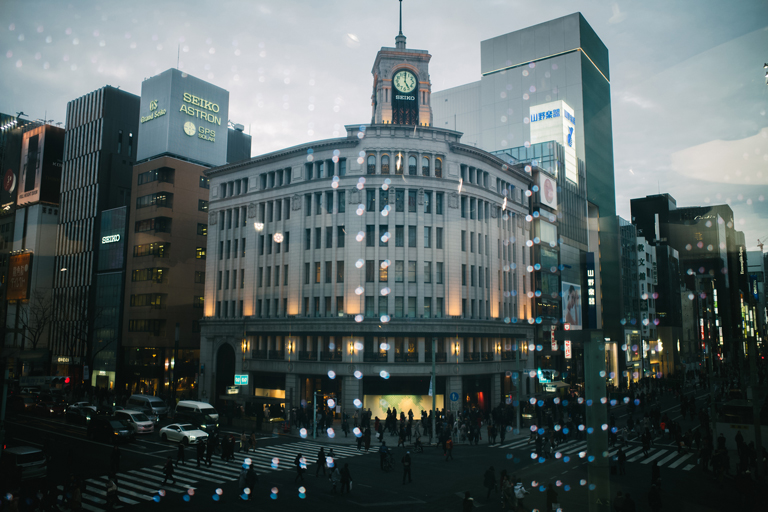 THE RAW BEAUTY OF
GINZA CROSSING:
TOKYO THROUGH THE LENS
From pampered pooches to cutting-edge cabs, Tokyo's Ginza Crossing is a visual delight. So we could not resist sending out a photographer to capture daily life at one of Japan's best street photography hotspots.
Ginza Crossing has been reincarnated so many times, nobody can remember exactly how it became one of the most loved intersections in Japan.

The place has an eternal sense of cool which has outlived earthquakes, wars and revolutions. The swanky glamor of the district permeates every brick.
Sought-after boutiques line Chuo-dori and Yurakucho; rubbing shoulders with the terracotta landmark of SHISEIDO Parlour Ginza 7-chome, the place for a sublime afternoon tea. Afterwards, stroll a few minutes north to take in SHISEIDO The Store — the intersection of science, art, and beauty.

All this and more is perched atop seemingly the busiest place on the planet: unpredictable, fast-paced, and constantly evolving. Words fail to define it, so we settle for images instead. Camera in hand, we seize the scenes in front of us, capturing snapshots that bring Ginza's unique moments to life. No wonder the place holds so much allure for photographers!

Join us as we explore the unique magic, one shot at a time.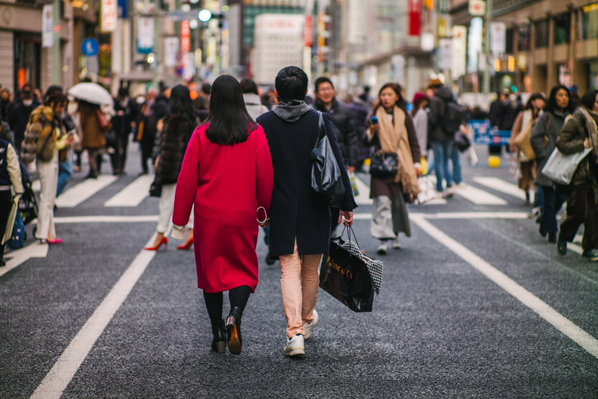 To See and to be Seen
The Ginza crowd has a quiet confidence that's missing from the more brasher neighborhoods: there's poise and refinement in classic European leather bags matched with Nepalese cashmere and Japanese culottes. Even salarymen rock facials, British tweed jackets or Italian wool, deliberately mismatched with jaunty pants, as their outfit of the day.

And then a classic kimono flashes through the crowd! Tourists swing their heads at this highlight of Japanese culture, and why not? The kimono is a miracle of silk — sturdy and feminine, bound with the heavy obi, and never looking the slightest bit out of place on these teeming streets.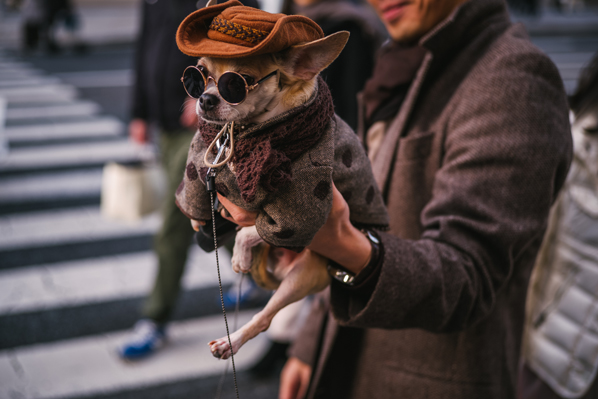 Man's Best Friend: the Four-legged Fashionista
Forget the catwalk, it's all about the dogs in Ginza! It's rare to see a scruffy canine: this neighborhood is colonized by packs of pampered pooches, all sporting the latest beauty treatments, fur-styles, haute couture, and to-die-for accessories. And in Tokyo, these super-stylish doggies have attitude: our so-called BFFs can actually be quite catty about their less groomed two-legged counterparts!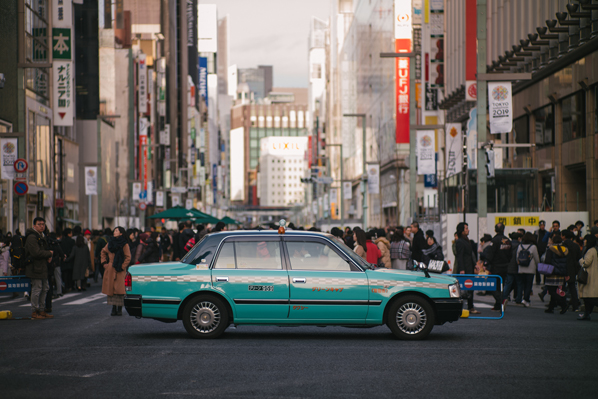 Supercharged Taxi Service (Drivers Still Included)
Gone are the days where you would need to wave a ¥10,000 banknote to lure a Tokyo cab. Ginza's famous Toyota Crown taxis are a style classic; easily available, immaculately clean — inside and out — and driven with the Omotenashi service for which Japan is famed. Plus, they appear to take more payment options than have yet been invented. Self-driving taxis are being trialed ahead of the Tokyo 2020 Olympics — but will the automated versions be as polite as a charming cabbie? And how will it polish the hood between fares?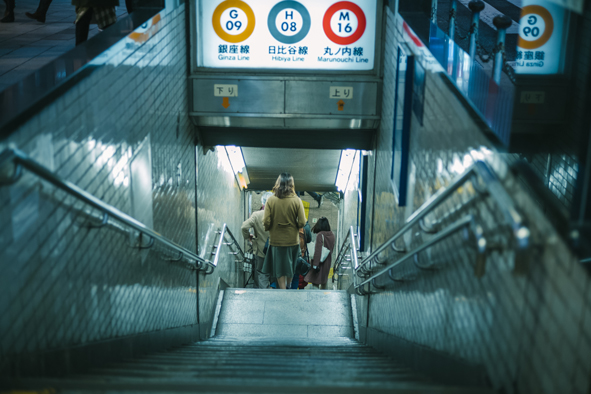 What's Your Type?
From typography to industrial design, every billboard and building in Ginza feels like a design icon, reflecting centuries of Japanese craftsmanship and creative inspiration.

There's the obvious: the stunning 5,300-panel aluminum "Sukashibori" style of Japanese lattice-work of Ginza Place. Created in 2016, it artfully balances the historic Wako building and clock-tower opposite. The Wako tower was rebuilt in 1932 after the Great Kanto Earthquake destroyed the 1894 original.

And then there's the subtle: from the Tokyo typography and cheery symbology of the subway signs to artsy menu posters at hip hole-in-the-wall eateries. Keep your eyes peeled; the smallest details are sometimes enough to reveal the heart of Japanese art and beauty.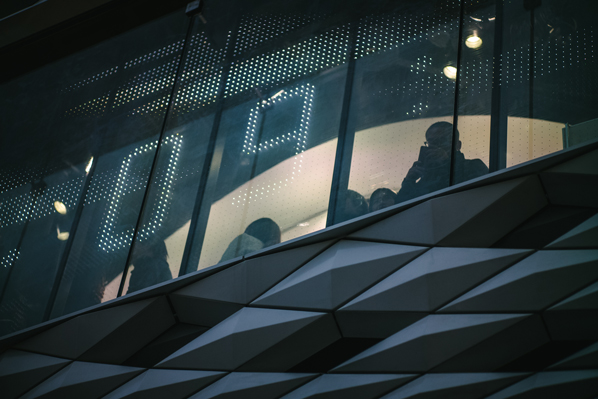 Ginza, City of Lights
It's after dusk that Ginza Crossing comes alight. Tokyo's streets are bathed in a romantic neon glow and building-sized animated LED artworks light up the dark. The urban night sky has never looked so beautiful: a photographer's dream and a couple's delight!
Cultures