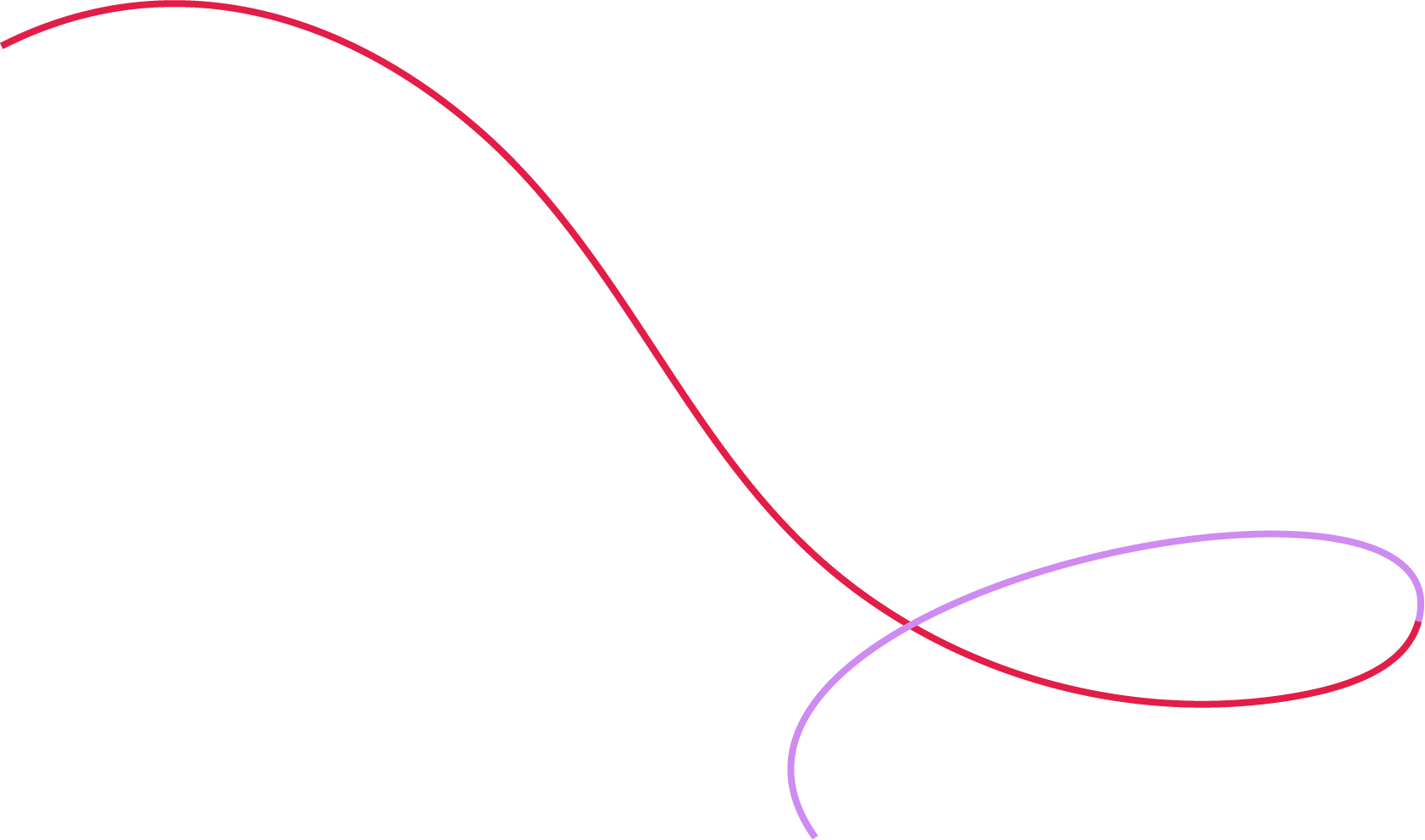 Camellia marque symbolizes brand SHISEIDO's modest pursuit for beauty that transcends time. Camellia Club embodies a mission to strengthen the bonding with our valuable customers and reward them with all things beautiful in life.

Inspired by nature, there are 4 tiers in Camellia Club: Tsubaki, Shion, Pearl, and Amber. Tsubaki and Shion are enchanting flowers commonly found in Japan while Pearl and Amber are unique and timeless gems emanated from nature. These signature icons illustrate the outer beauty and ignite your inner beauty with confidence, elegance and vitality.

Beauty journey in Camellia Club awaits you! Set off the journey with exclusive perks and exceptional experience - that we craft with our heartfelt gratitude for all your patronage for SHISEIDO.
Customers can receive 1 point for every HK$1 spent on any SHISEIDO product (excluding makeup and skincare tools) online and in store between 1 January to 31 December 2023. You are eligible to register as a Camellia Club member to redeem exclusive gifts using accumulated points and enjoy the fabulous privileges.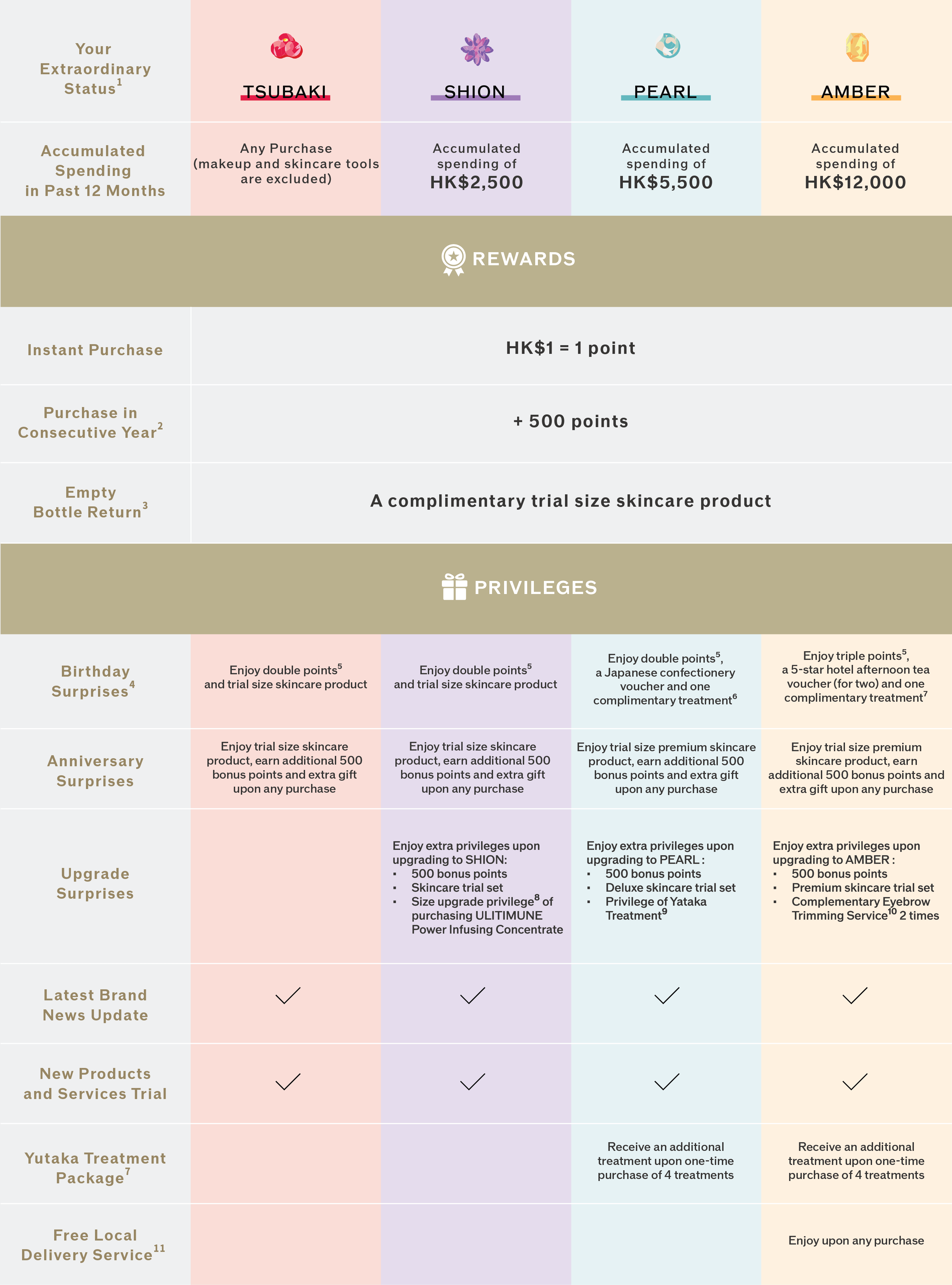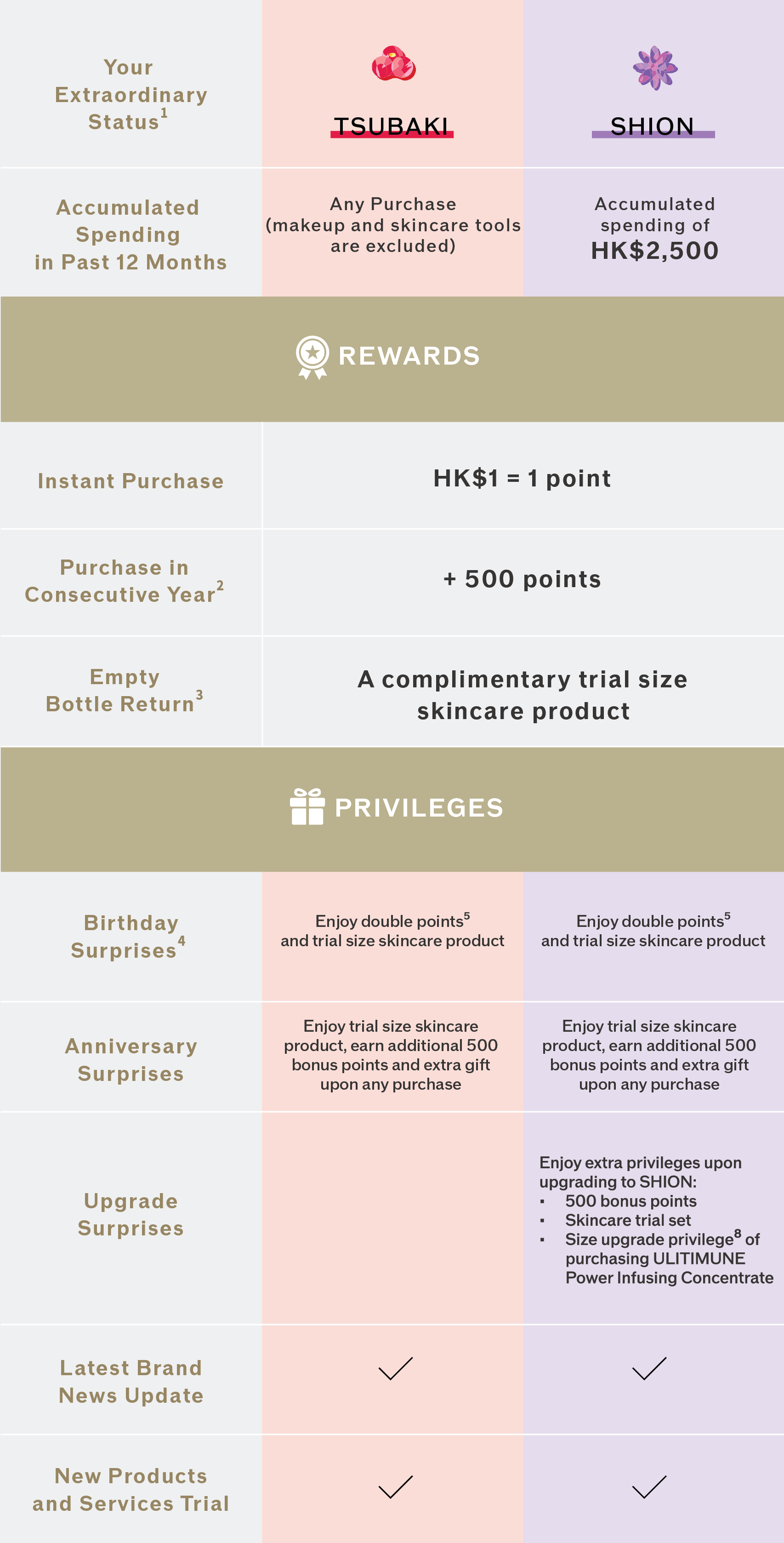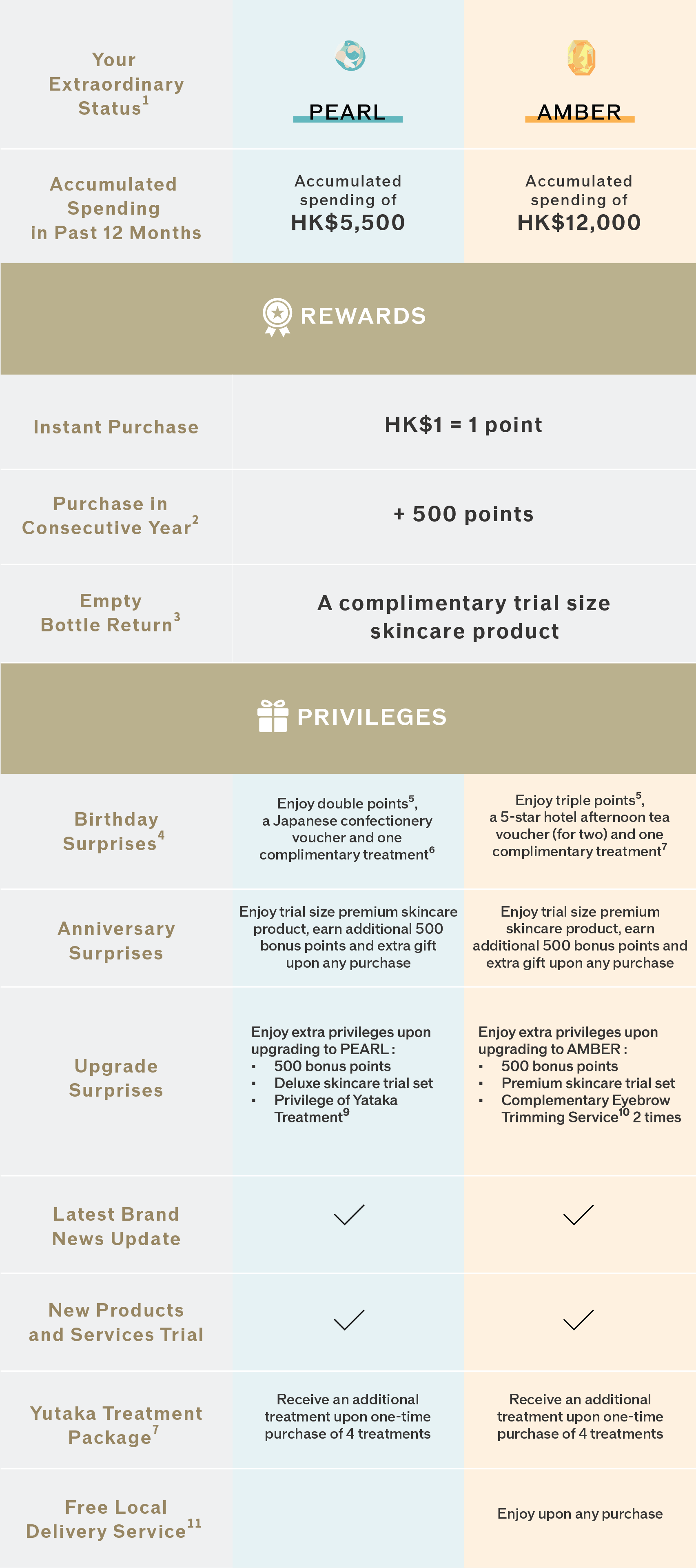 Terms & Conditions:
1.The validity period of membership status is 1 year and according to members' accumulated spending in past
12 months (membership downgrade is excepted).
2.Receive 500 points upon purchase in consecutive year 2022 & 2023.
3.Receive a complimentary trial size skincare product and extra gift upon returning any empty SHISEIDO serum or
cream bottle in SHISEIDO shops / counters.
4.All birthday surprises are valid in birth month and can be enjoyed once during membership period.
5.Enjoy double / triple points on the first day of transaction in birth month.
6.Treatment refers to Yutaka Premium Treatment (20 minutes; treatment includes eye and forehead area only) and
Hand Massage (20 minutes). Advance booking is required.
7.Treatment refers to Yutaka Treatment (70 minutes); Yutaka Legendary Enmei Treatment (70 minutes) is not applicable.
Advance booking is required.
8.Upsize from 50ml to 75ml when purchasing an ULTIMUNE Power Infusing Concentrate upon upgrading to SHION or higher membership tier.
Each member can enjoy the offer once only.
9.Upon upgrading to PEARL or higher membership tier, member can enjoy a Yutaka Treatment (70 mins) for HK$1,280
which the amount is redeemable on product after completion of a treatment. Advance booking is required.
10.Advance booking is required.
11.Service can be enjoyed 5 times a year.
Terms & Conditions:
Point redemption is applicable from 1 January to 31 December 2023. The gifts shown above are valid from 1 January to 30 June 2023. All points will be forfeited automatically after 31 December 2023 without further notice.
‧Camellia Club membership and bonus points are not transferable.
‧Annual Souvenir can only be redeemed by SHISEIDO's members in person. Identity document (e.g., credit card) is required for gift redemption. SHISEIDO Hong Kong Ltd. reserves the right to verify the membership identification documents.
‧Gifts are limited while stock lasts. A substitution may be given when the gift is out of stock and subject to change without prior notice.
‧Advance booking is required for all service.
‧Photos are for reference only.
‧SHISEIDO Hong Kong Ltd. reserves the right to amend the relevant terms and conditions at anytime without prior notice.